Best For Customer Service
Affiliate Disclosure: If you visit one of these sites and sign up, we may receive a small fee.
Our Expert Guide To Psychic Source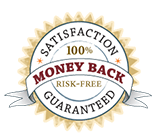 Hello friend. If you're on this page you might have been asking "is Psychic Source legit?" or just after an independent review of their service.
You are in exactly the right place.
The hard work has been done for you. We've spent our own money and got readings at PsychicSource.com.
We've ensured the readings are accurate, their (industry leading) advisors gifted and experienced.
Read on in this Psychic Source review 2023 to find out:
Who the most amazing psychics are
What kind of readings you can get
How much readings cost at PsychicSource.com
Our rating and thoughts
What other customers have been saying about Psychic Source
Ready? Let's go! 👇
If you're just wanting at a glance view of our Psychic Source review, here's our rating:
Advisor Skill & Experience
9.1
What Readings Can I Get At PsychicSource.com?
Sure, when we review a psychic site, we're looking for accuracy and great advisors. And top-notch customer service.
But something else that is key to our rating is the variety of services and readings you can get.
I was delighted when I went through the offerings at Psychic Source. Not only is there a huge range of psychic specialities but they make it super easy to find them with their search filters. There really are so many ways to get guidance to help you get more balance and clarity in your life.
Let's expand our PsychicSource.com review by looking at just some of what's on offer:
🔮 Career Psychics
There are 112+ advisors at Psychic Source who can help you with career readings. These can help you with blockers in your job or career.
Maybe you're striving so hard for that promotion and getting nowhere.
Or maybe you're thinking of a career change but unsure if it's the right decision.
Look for advisors like Esme, Cara or Vincent at Psychic Source for guidance and clarity.
🔮 Love Psychics
Love and relationship guidance is one of the most common reasons for a psychic reading. I've had a few myself in the past.
Some of the topics Psychic Source can help you with include marriages, dating, finding your true soulmate, or even breakups.
They'll do this with kindness, intuition. experience and love.
Check out advisors like Pippa, Weylin or Vontessa for a love reading at PsychicSource.com.
🔮 Clairvoyants
Clairvoyance is a real gift. There's some great clairvoyants at Psychic Source. During the reviewing of their site, one of our team had a reading from Nina and found it incredibly eye-opening. Also have a look at Xeba or Eden.
🔮 Energy Healing
I loved seeing this was available at PsychicSource.com as not all psychic sites offer it.
Energy healing offers a unique way of unblocking your energy, aura and soul. It's important to do this with someone who is really experienced and knows what they're doing. (It's also important to be super relaxed when you do it).
Energy healing specialists at Psychic Source include Hunter, Sheena and Dylan.
Other Types Of Reading At Psychic Source
Intuitive/Empath
Pet Psychic
Psychic Mediums
Clairsentient
Clairaudient
Best Psychics On Psychic Source
PsychicSource.com boasts one of the biggest ranges of talented psychics online. They have over 250 incredibly skilled and gifted advisors to choose from.
Now as you'd expect from a US-focussed psychic site, most advisors are available in USA hours. If you're outside the USA, you're still covered, just with not as much choice.
So whatever time of day, and wherever you are, you can get expert guidance and answers to your burning questions.
Rather than list all of them (you can find them here), I've hand-picked a few of the best advisors at PsychicSource.com here:
Psychic's Photo
Psychic
Customer Rating
Get Started

Specialist in love and career readings
Very very accurate tarot readings
36 years experience!
1790+ positive reviews

Get Reading Now

541 glowing reviews!
22 years psychic experience
3rd generation clairvoyant
Deep clarity, insight & wisdom

Get Reading Now

A huge 25 years experience
Gifted empath who helps you empower yourself
3108+ reviews
Highly compassionate and caring

Get Reading Now
Affiliate Disclosure: If you visit one of these sites and sign up, we may receive a small fee.
PsychicSource.com Prices For Readings
Introductory offers for new Psychic Source customers start at an amazing $1 per minute.
After that point the rates are from $4.99 per minute. Like any of the top psychic sites, the higher priced psychics are the most experienced and talented ones.
Top tip: #1 Keep an eye on the promo offers by ensuring you've chosen to get them via email.
Top tips #2: Check out and join the Membership Rewards Program to get bonus dollars and rewards.
Psychic Source Promo Code & Coupons
Looking for one of these? You don't need a promotional code (or coupons!) at Psychic Source – to take advantage of the superb introductory offers, just click the link below!
How To Get Started At Psychic Source
When I made my PsychicSource.com account I found it was very quick and very straightforward.
They've made the process totally painless and intuitive.
I actually timed myself doing it and from starting to my first reading was 3.5 minutes! Not bad eh?
So here's what you need to do
Visit PsychicSource.com and click Get A Reading
Choose your into offer. Tip: load up as many credits as you can as they will be at that awesome $1 per minute rate
Complete the signup screen. Tip: check the 'Yes! I want to earn…' box so you get promo offers
Add funds
Choose a psychic and get your reading!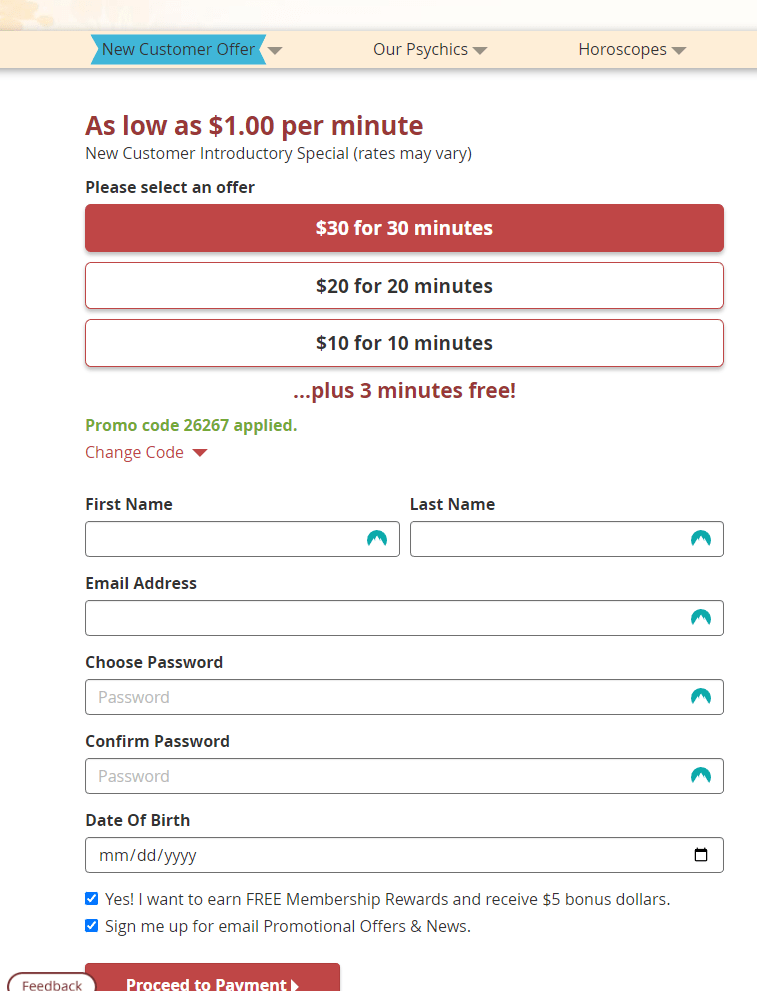 If you're going to have multiple readings I'd suggest downloading the Psychic Source app as that will speed things up even more.
---
Your Satisfaction Guaranteed
The customer service at PsychicSource.com is second to none. Not only do they have an actual phone number (which is answered quickly – we checked!) and a helpful support team.
But they have a satisfaction guarantee which is the best in the psychic industry.
Psychic Source is so confident you'll love the accurate readings that they will give you a full refund if you're not happy.
The satisfaction guarantee isn't something they hide in the small print either. They make a big deal of it on their website!
Having that confidence makes it even easier to get started and set up an account.
Psychic Source Pros & Cons
Whilst I'd love to say PsychicSource.com is perfect, I can't. If I did, I wouldn't be giving you a balanced review of Psychic Source.
That said, to give you the 'cons' I'm having to be quite picky.
Anyway, here's a round-up of the good and not-so-good about their service:
What We Like
Readings from $1 per minute
3 free minutes for new customers
250+ talented & accurate psychics
Satisfaction guarantee
Spanish language option
Telephone customer support
Huge range of psychic & tarot services
Free app for Android & Apple
Could Improve
Not too much availability outside of US hours
Website search function can feel clumsy
What Customers Are Saying About Psychic Source
Once I've personally tried one of the best psychic sites and chosen them to shortlist at Psychics.guru, the next thing I look at is reviews.
What I do here is take around 20 advisor profiles and scroll through what actual people like you have said about them.
I'm looking here for overall ratings. And also for what they're saying about accuracy, compassion and insight.
If those things are consistently there, I know my personal opinion has been validated.
And only then do we add the site to our shortlist. So here's just some of the absolutely glowing comments we found about PsychicSource.com:
"It's happens again and again and again. Timeline spot on! Prediction spot on!"
"Paisley gave me another great reading. She is a friendly compassionate reader who is in tune with my energy. "
"Very reassuring and compassionate. Manifesting and praying it happens!"
"I have never reviewed anyone right away and I am very difficult to please. Every single word Leota said is spot on. "
"Amazing insight. She was able to ease my mind and pinpoint an answer to my questions."

– A happy PsychicSource.com customer
Mobile Readings At PsychicSource.com
Confession – I spend WAY too much time on my phone! Which means I always test the mobile experience when I'm reviewing a psychic site.
I was super pleased with my mobile reading on Psychic Source. I opted for the app. but you can do it just as easily using your phone's browser (same with tablet). I actually found having a reading via my phone was more intimate than on a desktop and webcam. I felt more connected and in tune with the advisor.
The PsychicSource.com app is free and is compatible with both Android and Apple devices. You might be wondering why an app is needed.
Well, it just makes things easier. Easier to access readings and easier to access your rewards progress.
If you add the app shortcut to your phone's home screen you have everything at Psychic Source in just a few clicks (well, presses!) away.
PsychicSource.com Psychics Key Facts
| | |
| --- | --- |
| ❔ Number of psychics | 250+ |
| ⌚ Free minutes | No |
| 💲 Reading prices | $1 per min+ |
| 🀧 Tarot | Yes |
| ♈ Astrology | Yes |
| 📱 Mobile app | Yes |
Psychic Source – Our Summary
So there we have it. In our review of PsychicSource.com we showed you the vast number of psychics and services on offer.
We found plenty of glowing reviews from existing customers showing the high accuracy of the readings here.
And we've seen it's affordable and trusted.

Then we saw that Psychic Source guarantee their satisfaction by putting their money where their mouth is.
So, ready to get your first reading and three free minutes? Find the answers you've been looking for today.

Advisor Skill & Experience
9.1
Psychic Source FAQs
Is PsychicSource.com trustworthy?
Very. Here's why I say that.
The number one thing is they offer the best satisfaction guarantee in the industry. That speaks volumes.
Secondly, they have very stringent requirements and vetting for new psychics there.
Thirdly, the psychics have tons of experience and tons of positive ratings.
Do I need a promo code?
No. Just click through using one of our links and you can get started at $1 per minute. And it will take you just a couple of minutes to be up and running!
Does Psychic Source offer free psychic readings?
We get asked this about every psychic site we review. And the answer is no.
No reputable psychic site does. As the saying goes, "there's no such thing as a free lunch."
However, what you can do is take advantage of the great intro offers. That means rates from $1 per minute. And 3 free minutes for new customers!
Does Psychic Source offer a guarantee?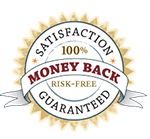 Yes! This is a feature we absolutely love to see.
It's super simple – if you're not happy with the last paid reading you did, it's free.
This really sets them apart from many tarot and psychic sites.
And it really demonstrates how confident they are in their psychics.
What payment methods does Psychic Source accept?
You can pay using credit card, debit card, prepaid card or money order. Cards accepted are Visa, American Express, MasterCard and Discover.
Does PsychicSource.com have an app?
It sure does. And that's for both Apple and Android devices.
It's a free download and it's certainly worth it if you're going to be having more than one reading at Psychic Source.