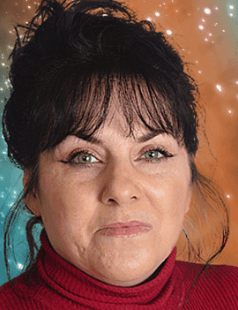 20+ years psychic experience
Amazing with love+relationship readings
22,680+ readings given
5 star rated, gifted psychic
Five minutes free for new customers
Affiliate Disclosure: If you visit one of these sites and sign up, we may receive a small fee.
Next in our series of interviews with advisors from AskNow.com, we chatted to the lovely Trinity, who's done a huge 22,000+ readings there!
We found out some more about her and her background.
Psychics.guru: Hey Trinity, thanks for speaking to us today. Could you tell us how long you've been a professional psychic for?
Trinity: I've been a professional psychic for twenty plus years
Psychics.guru: Wow! And when did you first know you were psychic?
Trinity: I was a young girl maybe around five or six years old when I found out I had Psychic abilities.
Psychics.guru: What do you find are the most common things people ask for help on when they come to you for a reading?
Trinity: Love , predictions, money and health are the most popular ones.
Psychics.guru: What tips do you have for people having their first psychic reading?
Trinity: They need to relax and not scatter their energies, try to be fearless
Psychics.guru: Many psychics have people in their families who were also psychic. What was your experience in this?
Trinity: My grandmother was Psychic and a tea leaf reader, my mother had Psychic abilities, and my son is Psychic as well as clairvoyant.
Psychics.guru: Many psychics use tools like tarot or others. What about you?
Trinity: Yes, I use tarot cards as well as my clairvoyant abilities.
Psychics.guru: What is it you love most about your job?
Trinity: I love the ability to help others and navigate them when they may be feeling down or indecisive about their relationship, job, problems, etc.
Psychics.guru: I think there's many misconceptions people have about psychics. What do you find are the most common?
Trinity: Not everyone has Psychic abilities, some people say they do when they really don't. You cannot learn how to be a Psychic, it must come naturally from your spiritual gifts.
Psychics.guru:  I imagine doing readings can be quite demanding on your mentally – how do you protect yourself from this and being affected by the energies of others?
Trinity: I meditate frequently everyday, I listen to uplifting audio and I take spiritual cleansing baths.
Psychics.guru: Trinity – big thanks for your time and insight, we really enjoyed it!
If you're interested in having a reading with Trinity – or one of the hundreds of other gifted psychics on AskNow, just click the link below!