Affiliate Disclosure: If you visit one of these sites and sign up, we may receive a small fee.
Our Expert Guide To Mysticsense
Mysticsense is kind of a 'new kid on the block' when it comes to psychic sites. Whereas sites like Kasamba and Psychic Source have been around for decades, Mysticsense really started properly in 2020.
Whilst they may be new, they offer hundreds of psychics that are highly experienced, gifted and consistently accurate. They have one of the most user-friendly sites (more on that later) and a huge 640+ advisors.
I loved seeing that the site has an incredibly generous five free minutes for new customers.
I recently used the site for a reading and I've thoroughly reviewed Mysticsense to bring you:
What readings they offer
Who their best psychics are
What the readings cost
How to get started
What we like and dislike about Mysticsense.com.
Ready? Let's go! 👇
Our Overall Rating Of Mysticsense
If you're in a hurry, here's the summary of our rating of Mysticsense.com. As you can see, it's scored highly in every area:
Advisor Skill & Experience
9.1
What Readings Can I Get At Mysticsense.com?
I was really happy to find a huge range of readings. Where they really excel is in love and relationship readings. Here they offer tons of psychics who can help with:
Affairs and cheating hearts
Divorces and breakups
Finding a new love – someone who is really worthy of your heart
Finding your true soulmate
Toxic / bad relationships
LGBTQ relationships.
Mysticsense also offers expert guidance and readings on:
Family issues
Friends
Pets
Money and careers
Your life path and destiny
Lost objects
Energy healing
Life balance
….and many more.
I was blown away by the skills offered in terms of the tools used. This shows me how experienced the psychics are at Mysticsense.
Whilst I had a tarot reading, they also offer tools like runes, numerology, astrology, auras and cartomancy.
But if you prefer a psychic to not use tools at all, there's plenty of them too!
Top Rated Psychics At Mysticsense .com
Mysticsense boasts over 640 advisors. I was really impressed with not just the amount of psychics they have, but how experienced and gifted they are.
I've chosen some of the very best Mysticsense psychics here:
Psychic's Photo
Psychic
Customer Rating
Get Started

A true specialist in love and relationship readings
Tarot, clairvoyant
Career / job readings
Caring and empathetic

Get Reading Now

Highly accurate and to the point
Love readings - soulmates, affairs + more
30 years experience
Natural born clairvoyant

Get Reading Now

10 years professional psychic experience
Money + wealth guidance
Tarot readings on anything, especially love
Fourth-generation psychic

Get Reading Now

Tarot, crystals and numerology
Easy going, relaxed approach
Soulmate / finding new love specialist
Life path and destiny readings

Get Reading now
Affiliate Disclosure: If you visit one of these sites and sign up, we may receive a small fee.
Mysticsense Prices For Readings
The prices for readings varies at Mysticsense. I found that video calls (from $1.80 per minute) have the highest cost, with text chats (from $0.99 per minute) the lowest.
The most expensive readings are at $10 per minute.
This compares really favorably to other psychic sites and I think Mysticsense is a great option if you're wanting a reading on a budget.
Mysticsense.com Promo Codes
Visitors often ask me if they need a promo code at Mysticsense. The answer is no – you don't need any promo code, just click through using our links to take advantage of the awesome intro offers they have!
Five Minutes Free & Satisfaction Guarantee
Many psychic and tarot sites have introductory offers for new customers. Mysticsense is no different.
It offers a very generous five minutes free. Combine that with the very competitive rates per minute they offer and you have a very low cost of getting a reading.
Now let's talk about the Mysticsense satisfaction guarantee. Not many psychic sites have this. When they do, it shows you two things.
Firstly that they actually care about their customers happiness. Secondly it shows you that they are very confident in the abilities and accuracy of their psychics (if they weren't, they wouldn't have it!).
I really liked seeing this when I did this review of Mysticsense and it makes you feel really valued as a customer.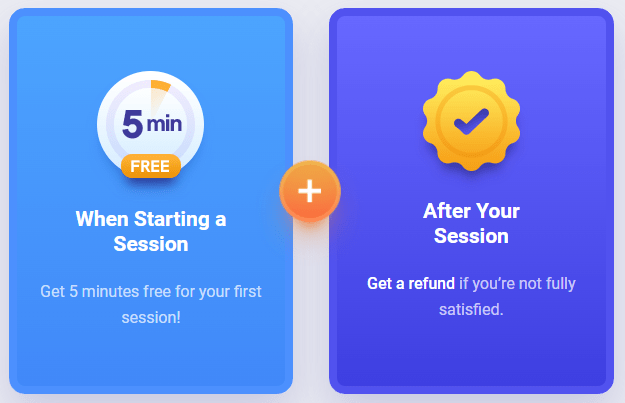 How To Get Started At Mysticsense
Getting your first reading at Mysticsense.com is super simple. Here's all you need to do get your reading in minutes:
Head over to Mysticsense.com
Click the orange 'Sign Up' button
Fill out the new customer form
Verify you your email address (they send you a verification code)
Deposit funds (you'll need to verify your phone number)
Get a reading
I timed it and it took me just five minutes from clicking 'sign up' to having my first reading there. Not bad!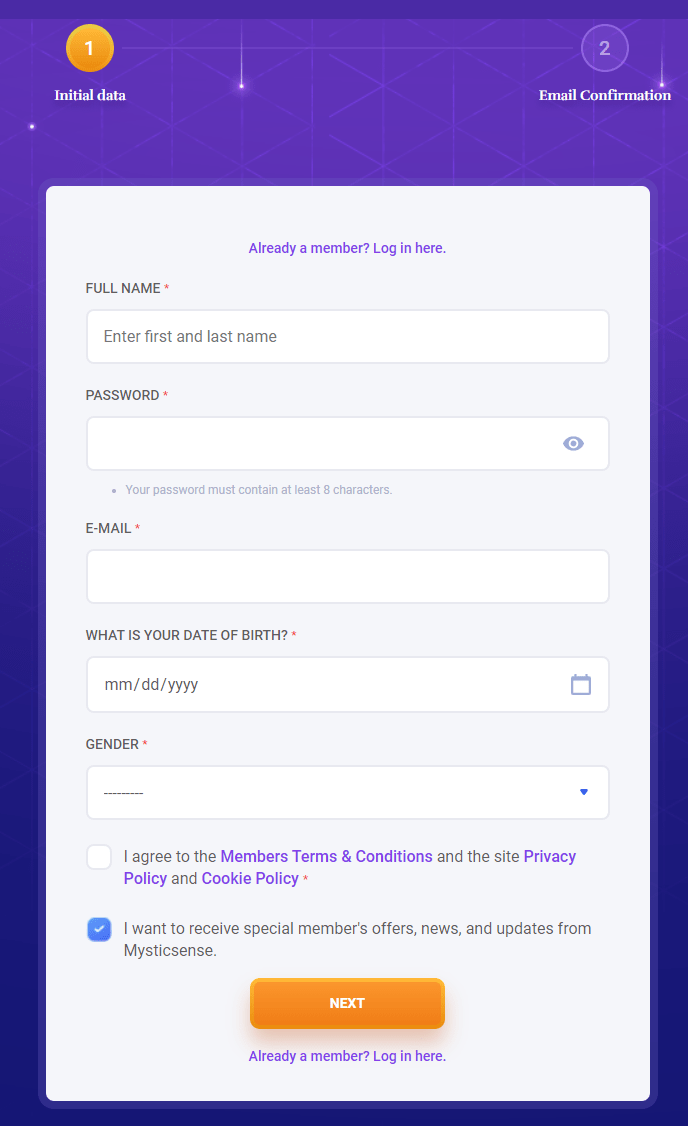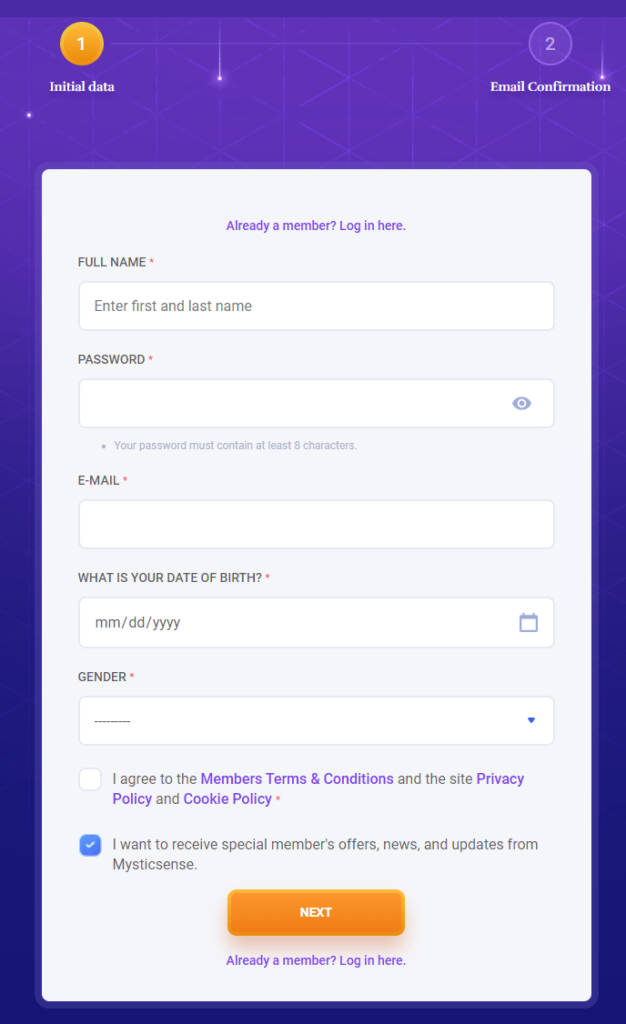 Top tip: Tick the 'I want to receive special member's offers, news, and updates from Mysticsense" checkbox. That way you can take advantage of any offers they have.
I was impressed with how you can find a psychic that suits you at Mysticsense. When you go to 'Our Psychics' you'll see a list of all of them.
What you can do then is use the filters on the left. These let you be really specific about what you want. So in 'specialities' you can choose things like Soulmates or Energy Healer.
But then you can also filter for tools or reading style.
This is a superb feature, especially if you've had readings before and know what you want. It's something that really sets them apart from other psychic sites. I found it made finding the right psychic so much easier and quicker.
---
Mysticsense .com Pros & Cons
So as you can see, I've been really impressed with what I found at Mysticsense. But no, it's not perfect. And I always want to ensure I give you honest reviews that cover the bad and good.
I feel like I'm nit-picking but I felt that the website can be a little clunky at times. Yes the filtering options are amazing.
But I did experience some page loading issues. Also the FAQ section felt very long and could be structured better.
I'd also liked to have seen a Mysticsense mobile app. That's just personal preference I guess and obviously you can still get a reading from your mobile via your browser.
Overall though I really liked the site and I thought my reading was accurate and on point. It's a great site for anything from love to careers or just to find answers to hose burning questions you have.
What We Like
Satisfaction guarantee
5 minutes free
640 talented, gifted and accurate psychics
Advanced filtering options
31,000+ positive reviews
Tons of experts in love and relationship readings
Loads of types of psychics and tarots
Genuinely friendly and kind psychics
Daily horoscopes
Could Improve
Website is a little clunky
No mobile app
What Customers Are Saying About Mysticsense
When we're looking for the best psychic sites, we always check out the reviews from actual customers. What we look for is consistently positive ratings and comments. When I reviewed Mysticsense I was blown away by how many there were! I've cherry-picked a few to give you an idea of what customers are saying about their readings there:
"He is compassionate and really made me feel like he connected to me and my situation. I find myself going back to review to the conversations and what he says happens!"
"Greg has been my go to psychic for months now. All of predictions has happened and his advice is incredibly helpful. I truly believe that he saved my relationship."
"If I could give her more stars I would. She is kind and always reassuring me. She is super intuitive."
"Fast, knew things she couldn't have possibly known about my situation. I can't wait for another reading."
"He tapped into some things about me that I didn't ask, but that I had observed (although I have never ever said out loud)."

– A happy Mysticsense .com customer
Mysticsense Psychics Key Facts
| | |
| --- | --- |
| ❔ Number of psychics | 640+ |
| ⌚ Free minutes | 5 |
| 💲 Reading prices | $1 per min+ |
| 🀧 Tarot | Yes |
| ♈ Astrology | Yes |
| 📱 Mobile app | No |
Mysticsense – Our Summary
I was pleasantly surprised when I reviewed Mysticsense. As it's a relatively new psychic site it doesn't have the reputation a more established one like Oranum has. However, it offers a fantastic range of services across psychic and tarot readings.
Big standouts for me are the satisfaction guarantee, the five minutes free, and the huge range of advisors.
There biggest selling points are probably price (they're a fair bit lower than many other sites) and the filtering/search options (which make it easy to find exactly what you need).
I found my reading was accurate and I felt the Mysticsense.com advisor really cared about my satisfaction.
Overall – a truly great psychic site and one we're happy to recommend here at Psychics.guru!
Affiliate Disclosure: If you visit one of these sites and sign up, we may receive a small fee.
Mysticsense.com – FAQs
Is Mysticsense trustworthy?
Yes. I found they have a very stringent process for hiring psychics. They thoroughly vet them so only experienced and truly gifted psychics can be on their site.
It's also worth highlighting again that Mysticsense has a satisfaction guarantee which shows how seriously they take customer service – and how confident they are in their psychics.
Mysticsense promo code – do I need one?
No you don't need a promo code at Mysticsense.com. Just use one of the link on this page to click through and get your five free minutes!
Does Mysticsense offer free psychic readings?
As a new customer, you can get up to five minutes free.
Does Mysticsense offer a guarantee?
Yes! In the (unlikely) event you're not happy with your reading, they will give you up to 10 minutes credit back. You can then use this with another psychic advisor.
What score does Mysticsense have on Trustpilot?
It has an extremely impressive 4.9 (out of 5) score on Trustpilot!
Does Mysticsense have an app?
Sadly it doesn't. I'd love to see them offer one as many of their competitors do.
That said, it's still super easy to get a reading from your mobile – you just use your phone's browser.
What is Mysticsense?
Mysticsense is a site where you can get psychic or tarot readings. It lets you connect with over 600 advisors who offer various types of readings.