Lifereader At A Glance
🔮 50% off first purchase
🔮 Your first call from just $0.19 per minute
🔮 Tons of experienced, trusted psychics
Lifereader is a psychic site you may have heard of. It's possible you may wonder if they are legit and can be trusted. The answers to those question is definitely a big 'yes'!
You can learn about the pros and cons of LifeReader.com in our exclusive review.
Our team has been raving about this for a long time, and we're eager to share more with you. The following are some reasons why Lifereader is such an excellent psychic reading service.
Here is our comprehensive LifeReader.com review for you.
We Love
24/7 access to the best psychic readers
Free horoscopes
Plenty of love psychic specialists
Great value package offers
A great choice for people in New Zealand & Australia
Could Improve
No mobile app
Customer service not always quickly available
LifeReader.com Review & Rating – Our Expert Opinion
LifeReader.com is highly rated psychic site based out of New Zealand and has been around since 2008. There are over 80 psychics to choose from at LifeReader.com as they are in specialized niches, and that is what makes the platform hugely successful for over a decade. The site offers four free minutes for new customers and other perks, making the platform attractive.
The rates at Lifereader are affordable and competitive, and since the site appeared quite good, I wanted to review it and give you an independent overview of the site.
Advisor Skill & Experience
8.8
Are The Lifereader Psychics Accurate?
I wanted to check how accurate and legitimate LifeReader.com is and how it compares to its competitors. You will see that when you go on the site, you will find that various psychics can help you in almost every niche, as the majority of them specialize in relationship readings, whether they use tarot, astrology, pendulums, crystal balls, or other tools. Other psychics focus more on mediumship readings, tea leaf readings, shamanism, dream interpretation, and mind reading.
Other readers offer other services by using different tools.
Finding a Great Psychic At Lifereader
The reading categories may seem simple at first, but as you get to know the site better, you will see that there are so many other ways to filter out the psychics so you can find the best one for your needs at the time. For example, if you are looking for the best psychic for yourself, you can go to the navigation area at the top of the homepage tab. That is where you can filter out psychics that are only right for you once you find the best one.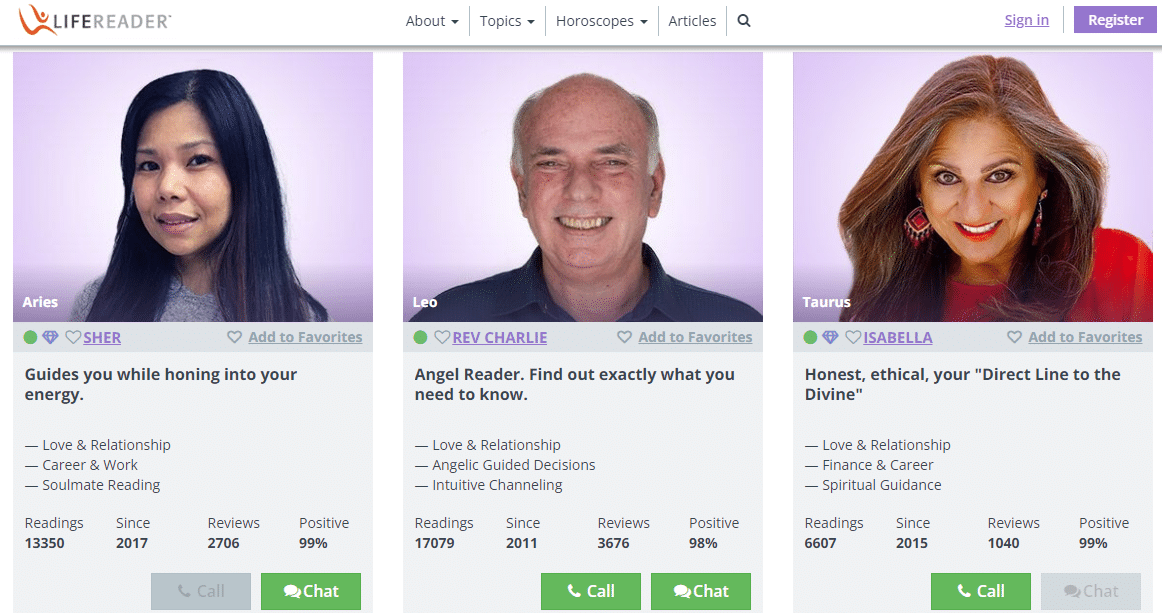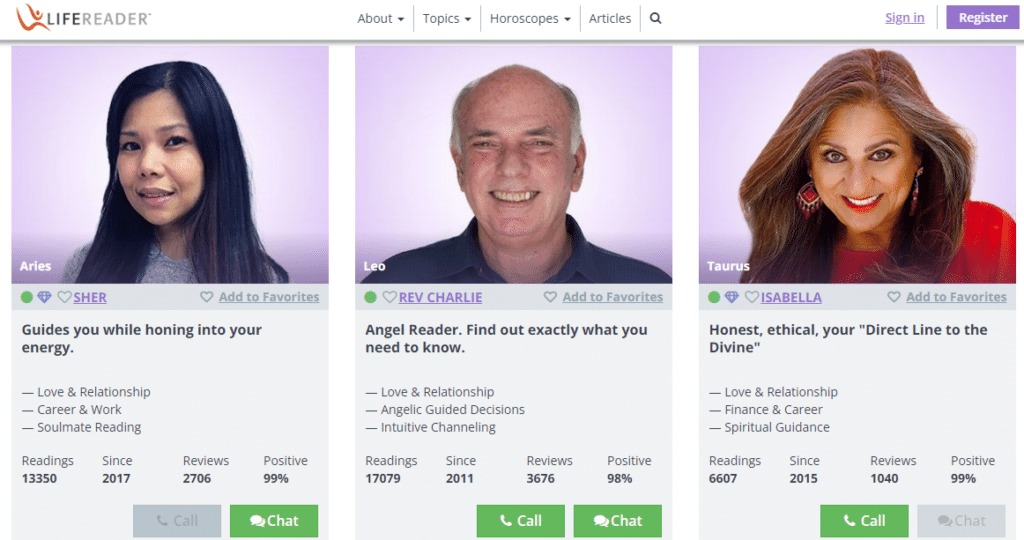 If you are still confused about how to use the site, when you go to the "About" tab, you will find underneath the "How it works" tab, which will help you work with the site better if you are confused.
Super Easy To Get Started
If you want to get a reading from a psychic on LifeReader.com, all you need to do is sign up, as it is a three-step process, and you do not have to add any billing information yet; only once you are ready to hire a psychic. You can see their details more in-depth when you click on a psychic's profile. Some profiles have more information, and some have a video introduction. You can also see reviews from other clients on their profiles which will also give you an idea of how much of a fit the psychic is for you.
Another exciting feature is that each psychic has their zodiac sign listed above their profile. So if you like a profile, you can also add it to your favorites to access it in the future. You can also request an email notification if you like a specific psychic you used or want to use so you know when they are online again.
The Downsides of Lifereader
However, the downside of Lifereader is that even though you have various talented psychics to choose from, you will only receive a credit refund if you are unhappy with the service rather than a cash refund. That means you have to use your credits for another reading.
Furthermore, you can only leave a psychic review if you pay the total amount, and you must do so before the seven days are up. Finally, customer service has been known to be inconsistent as they respond slowly if you call or email them.
LifeReader Psychics Prices For Readings
The average cost per call on LifeReader is $3.00 per minute to $6.50 per minute. Experienced psychics on that platform will charge more for their reading, which is when you will see the price being upward of $6.50 per minute, whereas psychics with less experience will charge more towards $3.00 per minute.
You may pay more for psychic readings at Lifereader, but the quality of the readings you get is much higher than on many other sites. So you need to be aware of that as you will be paying for quality.
What Type Of Readings Can I Get At LifeReader.com?
The variety of psychic readings you can find at LifeReader.com will satisfy you no matter what you're after. Various gifted readers specialize in the following:
Angel readings
Astrology readings
Automatic writing
Crystal ball reading
Dream interpretation
Mind reading
Numerology readings
Oracle card reading
Paranormal readings
Psychic channeling
Psychic mediumship channeling
Rune stone readings
Shamanism
Spiritual readings
Tarot card reading
Tea leaf readings
Lifereader Astrologers
The type of astrologers you will find on LifeReader.com are:
Chinese astrologers
Horoscope readers
Indian astrologers
Karmic astrologers
Natal chart readers
Vedic astrologers
Western astrologers
Love Psychics Are Their Speciality
One of the most common reasons customers go to LifeReader.com is because they have many questions about their relationships and love life. If you are interested in knowing how a relationship is going, have an interest in someone, or have had a challenging breakup, you will find a gifted reader who can help you.
Lifereader offers a huge range of love psychics who can help you with areas like finding your soulmate, dealing with marriage, divorce, dating and breakups.
Finally, you can find a psychic on LifeReader.com who can help you regarding healing your body, mind, and spirit as they can do the following:
Animal communication
Anger counseling
Aura readings
Chakra readings
Crystal healing
Diet advice
Fertility readings
Feng shui advice
Life coaching
Motivation help
Naturopathy
Reiki healing
Sexual counseling
Spiritual guidance
Spiritual healing
As you see, that is a large variety of readers, which makes Lifereader a great choice of psychic site.
The Best Psychics At Lifereader
If you're wondering 'who is the best psychic at Lifereader?' we've got the answer. Whilst there are tons of wonderful gifted psychics at Lifereader, we found these three to be probably the best, especially if you're after love or soulmate advice:
Psychic's Photo
Psychic
Customer Rating
Free Minutes

5520 positive reviews
Over 21,000 readings done
LGBTQ+ friendly
Love/relationship expert

Get Reading Now

Truly gifted clairvoyant and psychic
Love, relationships
Career readings
Soulmate expert

Get Reading Now

Empathetic, gifted love psychic
10+ years psychic experience
100s of positive reviews
Highly accurate reader

Get Reading Now
Affiliate Disclosure: If you visit one of these sites and sign up, we may receive a small fee.
How To Get Started At LifeReader.com
When you are creating an account on LifeReader.com, you'll find it's an easy three-step process.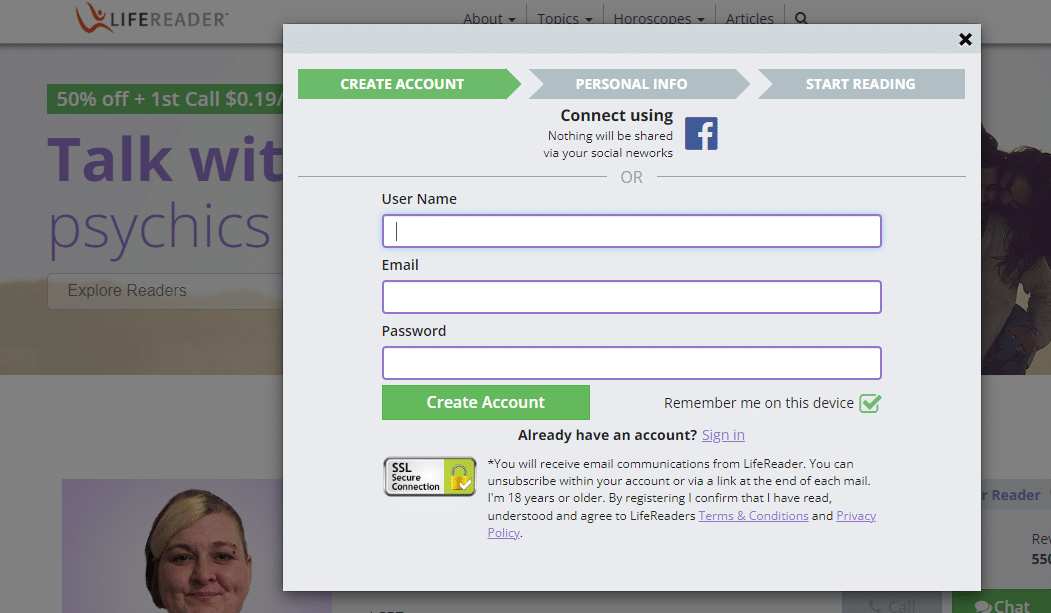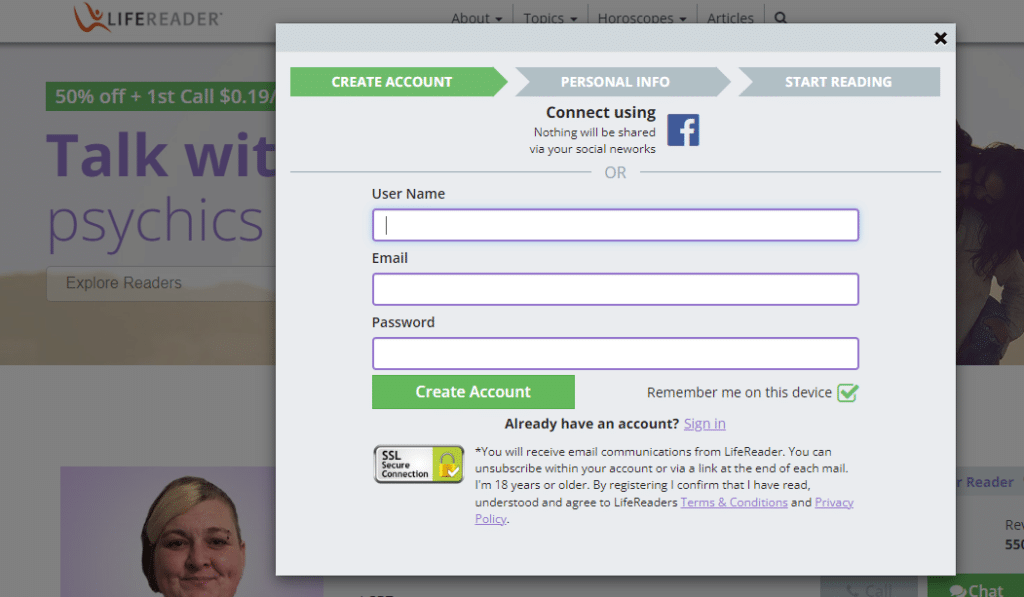 The first thing you will do is go to create an account area and fill in your email address by creating a username and password. Then you will register your Lifereader account and agree to the site's privacy policy and terms and condition
The next thing you will need to do is to add essential information such as your name, birthday, and address. You will also need to add your phone number for verification purposes. Finally, you must enter your phone number to function for the Lifereader psychics site
The last thing you must do is add your billing information, as you can select a payment method. However, you can wait to do that if you want to search for the psychics and see what they can offer you before making that commitment. Even if you don't put your billing information immediately, you still have a LifeReader.com account created. When you are ready to get a reading with a psychic, you must add your billing information.
LifeReader.com Pros & Cons
Is Lifereader perfect? No – the perfect psychic site doesn't exist, I'm afraid! However, there is something unique about each of them, and I try to balance their strengths and weaknesses.
To help you decide, here are the pros and cons of he platform which you will learn on our LifeReader review:
What We Like
You will have access 24/7 to internationally recognized top readers.
If you are a new customer, you will only pay $0.19 per minute for a ten-minute call.
You receive four free minutes of chat with any psychic if you are a brand-new customer.
The readers are compassionate, understanding, and accurate.
The site provides you with some excellent deals after the first offer.
You can obtain excellent package deals such as $20 for a $40-value package. You can also get one for $30 for a 60-value package.
Could Improve
No Lifereader mobile app
Customer service isn't always easily reachable
Not so many advisors online in non-NZ or AU regions
Mobile Readings At Lifereader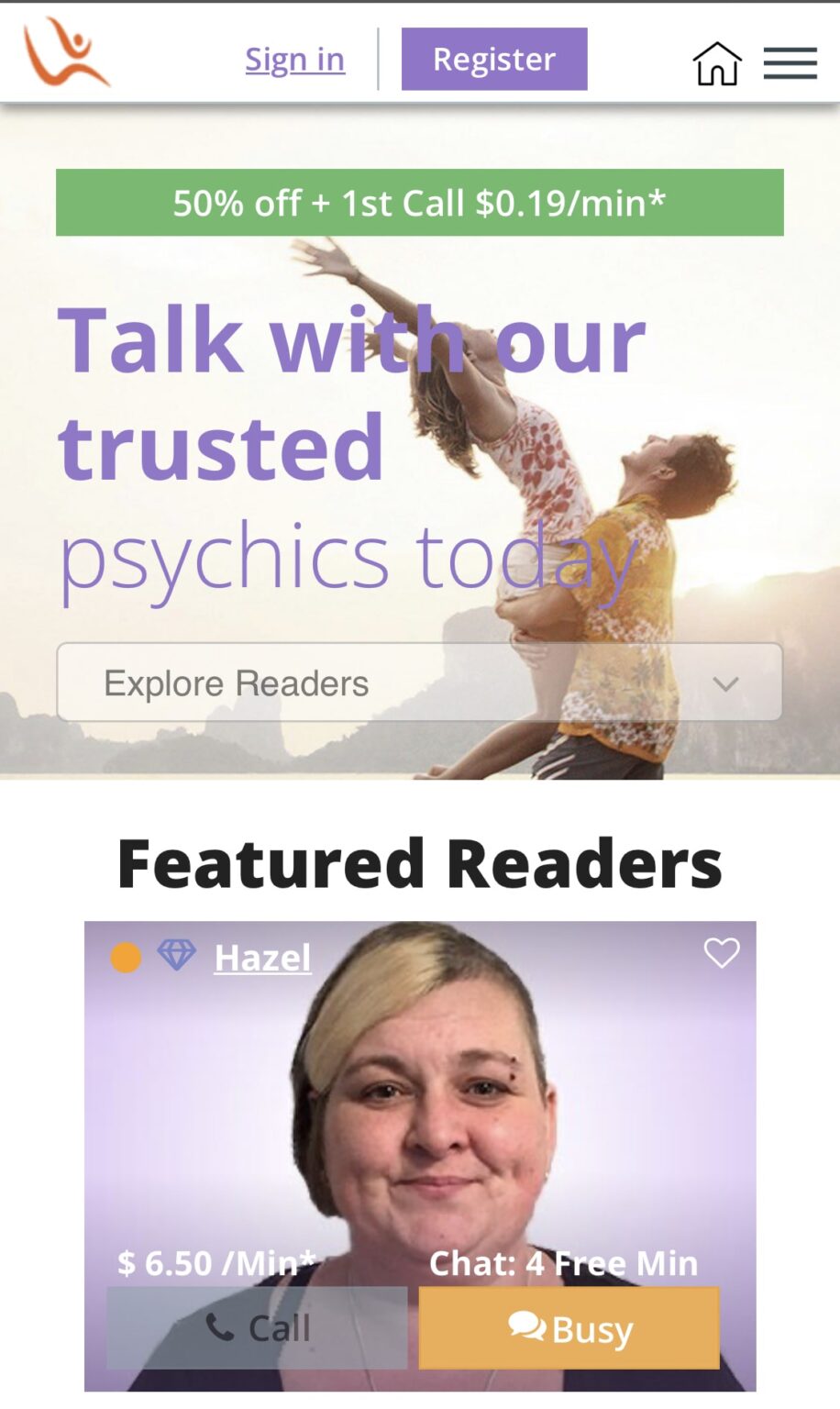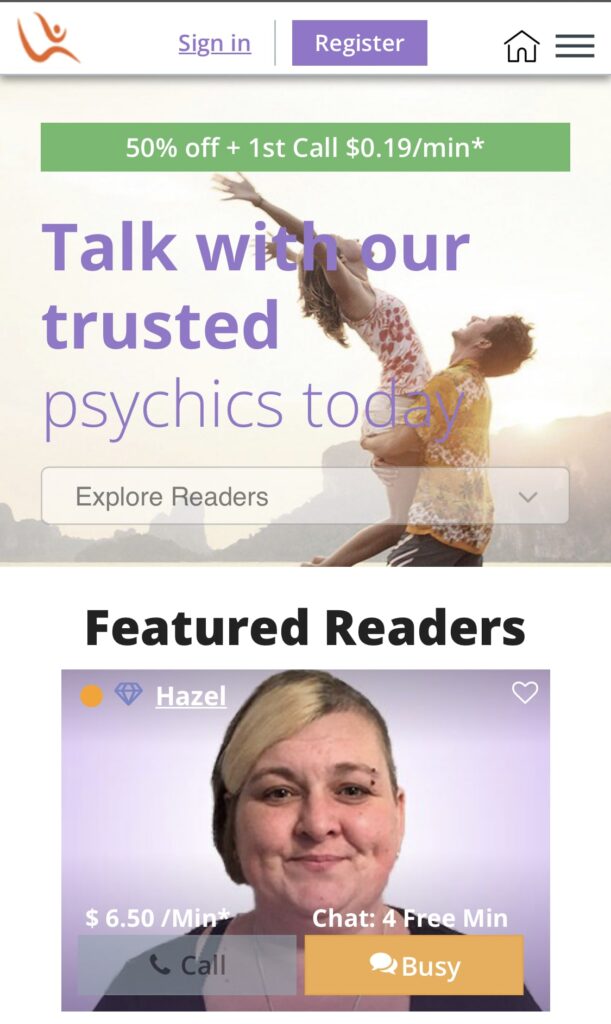 If you would like to have a reading through Lifereader on your mobile phone, you can. That is great news. However, the unfortunate thing is that there is no mobile app for Lifereader in most areas worldwide. The company may be working on developing one, but at this time, there is no Lifereader app.
However, you can use the Lifereader mobile site on your smartphone as you can see that Lifereader is easy to navigate on your phone if you want to have a reading while you are on the go. Therefore, the mobile site is designed well if you cannot or do not want to use it on your laptop.
Takeaways
If you want to build a powerful connection with a multi-talented psychic that can offer you different readings in various categories, then you will love LifeReader.com. The rates are competitive, and you will receive four free minutes for your first reading if you are a new customer and some great deals. That four minutes for your first reading will allow you to determine whether or not the psychic is a good fit.
You can also read horoscopes and spiritual and engaging articles that will fascinate you. Again, you will get excellent value for your money. You cannot go wrong with the platform.
Lifereader Psychics Key Facts
| | |
| --- | --- |
| ❔ Number of psychics | 80+ |
| ⌚ Free minutes | 4 |
| 💲 Reading prices | $3 per minute+ |
| 🀧 Tarot | Yes |
| ♈ Astrology | Yes |
| 📱 Mobile app | No |
LifeReader.com – FAQs
Is Lifereader Legit?
Yes – LifeReader.com does vet their advisors; they need to pass the test to get hired by the platform. However, you must use your intuition before hiring a reader on the forum. Just because LifeReader.com hired the advisor does not mean they are the ideal one for you. 
Watch out for any reader attempting to tell you fascinating things to get you to buy more minutes. You also never want to trust a psychic that says they offer a magic potion to cure whatever is happening with you or can remove curses for extra money. 
You want to be careful about psychics that tell you everything you want to hear and anything that sounds too good to be true. Or if they constantly flip-flop during the reading. However, LifeReader.com does its best to keep the quality of readers high. 
Does Lifereader Offer Free Minutes?
If you are a new customer, LifeReader.com does offer four free minutes for your first reading. And you can also get other excellent deals. However, there are no more free minutes for subsequent readings. Your new customer status at that point will no longer be valid. 
Which Countries Does Lifereader Support?
LifeReader.com is based out of Auckland, New Zealand, but it supports every country, as you have advisors from various countries worldwide. The platform also supports multiple currencies. So it does not matter where you live. If you want to hire a reader from LifeReader.com, you can. 
What payment methods does Lifereader accept?
Lifereader accepts Visa and Mastercard – this can include prepaid or gift cards.