Affiliate Disclosure: If you visit one of these sites and sign up, we may receive a small fee.
Our Expert Guide To California Psychics
I'm guessing you might have heard of CaliforniaPsychics.com. Perhaps you've been tempted with getting a reading there.
Or you've seen one of their adverts online or on the TV.
Maybe though you're asking yourself "is CaliforniaPsychics.com legit?" or "are the readings really that accurate"
You're in the right place! I'm here to guide you through this full review of California Psychics for 2023. We'll be looking at:
The types of reading you can get
The best, most gifted advisors at California Psychics
How much the readings cost
How to get started
Their rewards scheme
Ready? Let's go! 👇
Advisor Skill & Experience
9.2
What Readings Can I Get At CaliforniaPsychics.com?
Given they have over 500 highly talented advisors, you won't be surprised to hear that is reflected in the services they offer.
Let's explore the main ones.
🔮 Love Psychics
CaliforniaPsychics.com has some amazing love and relationship psychics. It's an area they're well-known for.
Many folks use CP for advice on finding their true love, or solving relationship issues.
Finding a soulmate can sometimes be frustrating. Using a psychic for independent guidance can often work wonders.
Look for advisors like Phoebe or Phillip who excel in this area.
🔮 Money Psychics
Perhaps you want to attract more wealth and abundance into your life. Or maybe you're struggling with debt.
Speaking to someone at California Psychics about it can be incredibly insightful. Check out advisors like Caleb, Parnella or Layla for a really gifted money psychic reading.
🔮 Career Advice
Sometimes navigating the world of careers can seem overwhelming. Often times we're trying to get ahead in our career through promotion.
OR maybe you're considering changing career altogether.
With times like these a psychic reading can pay real dividends by helping you getting in tune with your inner truth.
Have a browse of psychics like Darlene, Edwina or Abraham.
Other Types Of Reading
as if the above wasn't enough, you can also find the following at California Psyhics:
Life path
Pet
Past life
Missing people
Lost objects
Deceased people
Top Rated Psychics At California Psychics
With what I believe is the biggest range of online psychics anywhere, California Psychics offers immense choice.
So whether you're looking for tarot, mediums, fortune tellers, astrology or more – you are spoiled for choice!
Many of the psychics here have literally tens of thousands of positive reviews. And plenty have decades of experience.
Here are a few of what we think are the best advisors at California Psychics:
Psychic's Photo
Psychic
Customer Rating
Free Minutes

9000+ positive reviews!
Has given 53000+ readings
Kind, gifted with calming vibes
Highly accurate and loves helping others

Get Reading Now

Has given 11700+ accurate readings
Truly supportive and skilled
Gifted psychic that is caring and intuitive
Will help you make your life beautiful and free

Get Reading Now

She's done 9775+ readings since 2018
Compassionate, empathetic, caring psychic
Great with tarot and crystals
Will help you get a better connection to your life and its purpose

Get Reading Now
Affiliate Disclosure: If you visit one of these sites and sign up, we may receive a small fee.
CaliforniaPsychics.com Prices For Readings
Whenever we review one of the top psychic sites, we look at the price for readings. We're not necessarily looking for 'cheap' readings.
What we do want to see is a great range of prices. Because that means there's choice foe everyone, no matter what budge you have.
The prices for readings at California Psychics start with their intro offers of $1 per min. The highest rate per minute you'll find is $15 per minute. Plenty of choice for everyone, and it shows that CP really care about offering psychic services to as many of us as possible.
California Psychics Promo Codes
Great news – you don't actually need a promo code at California Psychics. Just use our links on this page to take advantage of the great intro offers!
Karma Rewards
Did you know CaliforniaPsychics.com has its own reward scheme?
It does indeed, and it's pretty amazing.
As the name suggests, it's a reward scheme. Karma Rewards gives you points for your spend with California Psychics.
Karma Rewards has three tiers:
Renewed – when you've had 0-249 minutes of readings a year
Enlightened – 250-2,999 minutes per year
Inspired – 3,000+ minutes per year
The best thing? You get $20 just for signing up. It's a no-brainer, right?
Every reading you get earns points. it's super easy to start and super easy to understand: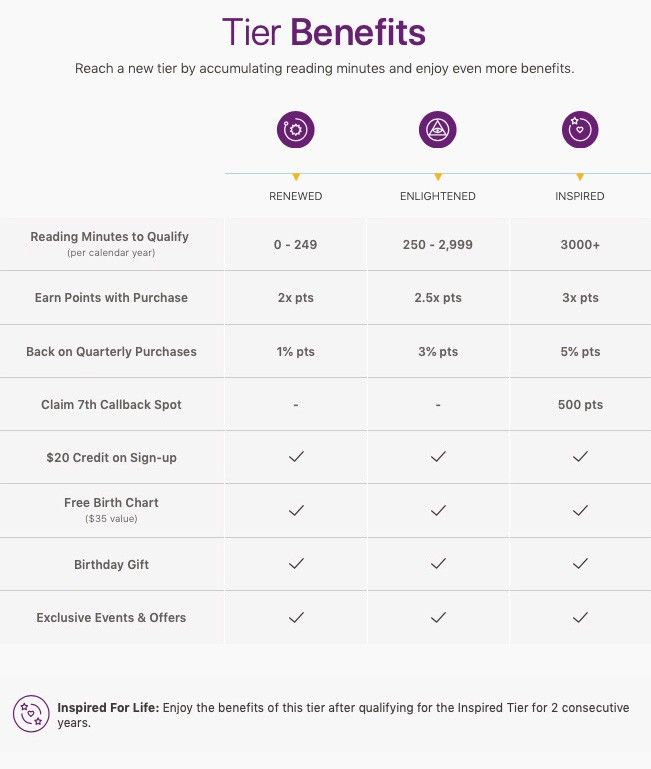 How To Get Started At California Psychics
Ready for an insightful, eye-opening reading? Well, getting your first one at California Psychics couldn't be easier. They have one of the quickest sign up processes in the industry.
Here's what you need to do to get started in just minutes 👇
Go to CaliforniaPsychics.com using our link.
Go to 'Create Account'
Complete the simple form
Add funds
Choose a reading.


It's that simple!
---
California Psychics Pros & Cons
Wow – there's a lot of good stuff to love at CaliforniaPsychics.com!
We've hand-picked it for our site because we think the readings, service and psychics there are world class.
That said, it's not perfect. So below is a round up of the good and bad points about California Psychics:
What We Like
Readings from $1 per minute
Superb app for Android & Apple
Satisfaction guarantee
500+ highly accurate psychics
1000s of positive reviews
Awesome reward scheme 'Karma Rewards'
Long established and trusted since 1995
Could Improve
No free minutes
Not so much availability outside of US hours
What Customers Are Saying About CaliforniaPsychics.com
Sure, I've given you my opinion of California Psychics. And as you can see I'm quite a big fan!
But let's find out what their customers are saying about them. Below are actual quotes from people just like you:
"What a great reading! Such a nice friendly person, VERY accurate! Won't be this price for long! Thank you. I just added you to my circle!"
"Read with her on everything and she is soo accurate and supportive. Keeps you from making huge mistakes. Thank you."
"Always straightforward, no wasting time. Practical advice and predictions as well."
"A little harsh but straight to the point. Exactly what I needed. Sometimes we need to hear the truth and it could be hurtful but it's not his fault. He was just speaking the truth."
"I have lived many many years, and have had hundreds of readings throughout that time and for me, Riley is one of the best of the best. Her accuracy is unbelievably spot on. "

– A happy California Psychics customer
Mobile Readings – California Psychics App
Many folks (like myself) do most of their online activities on their smartphone or tablet. (Frankly I spend WAY too long on my phone but that's another story).
So when we review the best tarot and psychic sites for 2022, we want to ensure the mobile experience is top-notch.
At California Psychics you have two choices for their mobile readings. You can just use your mobile browser – this works great.
Or you can download (free) the California Psychics mobile app. I'd highly recommend this if you're getting more than one reading.
The app makes everything slightly quicker and easier. Because it's dedicated exclusively to your California Psychic experience, it's designed to show everything you need in one place.
The best psychics are just a click (or press!) away. And you can quickly see your progress with the Karma Rewards program.
Here's a taste of what the California Psychics app looks like (by the way, the 'Psychic Match' works great – definitely worth checking out)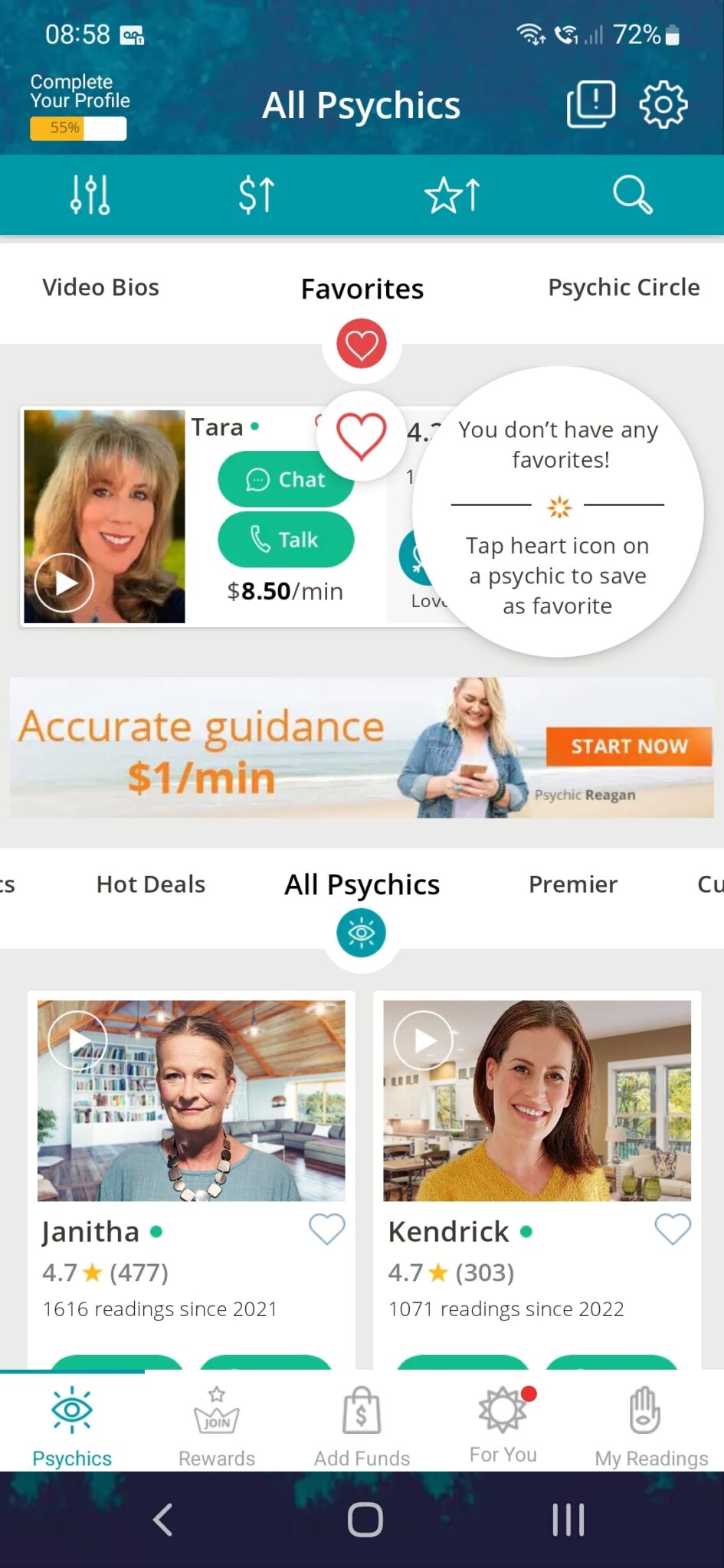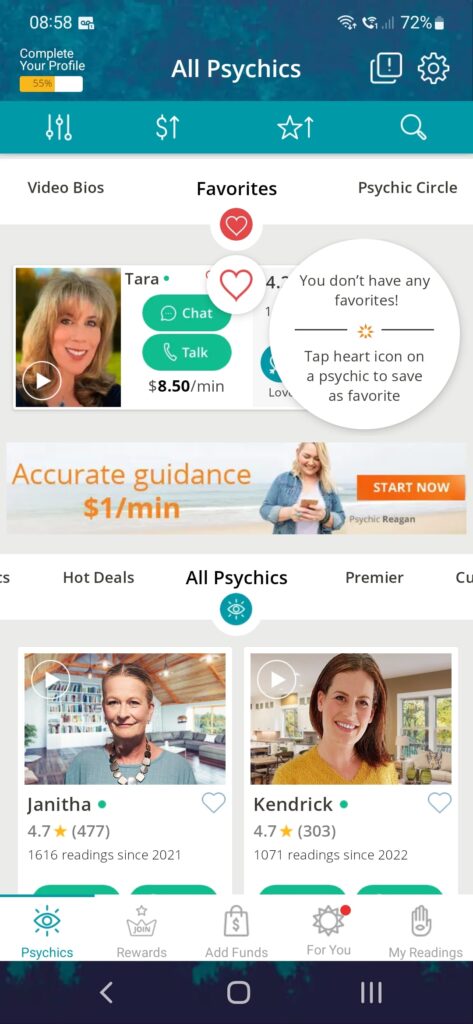 So Is California Psychics Legit?
Yes, very much so. California Psychics is one of the most trusted psychic sites and one we're proud to recommend on our site. It's well loved by thousands of return customers and features hundreds of the best, most gifted psychics you can find online.
CaliforniaPsychics.com Key Facts
| | |
| --- | --- |
| ❔ Number of psychics | 500+ |
| ⌚ Free minutes | No |
| 💲 Reading prices | $1 – $15 per min |
| 🀧 Tarot | Yes |
| ♈ Astrology | Yes |
| 📱 Mobile app | Yes |
California Psychics – Our Summary
I think you'll agree, CaliforniaPsychics.com is pretty amazing!
It boasts 500+ psychics (the most on any site as far as I know), a superb rewards scheme, and incredibly gifted psychics.
Advisor Skill & Experience
9.2
And that's not to mention the free app, the huge range of services and the intro rates from $1 per minute.
There's a reason we feature California Psychics on our site. And that's because it's one of the best psychic and tarot sites out there.
Want to learn more and get a reading in minutes? Just click on the link below and see why we love this site!
CaliforniaPsychics.com – FAQs
Is California Psychics trustworthy?
Totally. This is the largest psychic site online and has over 500 advisors.
It's trusted by 1000s of customers like you every single day. It also has probably the best customer service experience in the industry.
And their readings are incredibly accurate!
Do I need a promo code?
No. Just click on one of the links on this page and you'll be able to get the awesome intro offers!
Does California Psychics.com offer free psychic readings?
No. Like any of the trusted and legit psychic sites we list on this site, there's no free readings.
That's because if you want a proper reading, you'll need to pay for it. These are some of the most gifted and accurate psychics online.
No legit tarot or psychic site would offer a really free full reading.
What you can do is take advantage of some amazing promo rates which start at just $1 per minute.
Does California Psychics offer a guarantee?
Yes and no.
If you're a first time user and you're not happy, you can contact the customer service team and they'll refund you.
If you're not a first time user there isn't a guarantee. In our experience (and that of our friends) it's highly unlikely there will be an issue.
Also remember, like any psychic reading – nobody can guarantee they're 100% accurate.
What payment methods does California Psychics accept?
They accept PayPal, Visa, MasterCard, American Express, Discover and debit cards.
Who owns California Psychics?
It's owned by Outlook Amusements, Inc.
Does California Psychics have an app?
Yes it does – there is a California Psychics app. It's a free download and available for Android and Apple devices.
I highly recommend downloading it if you're going to be using the service.