Today I'll explain about the New Year tarot spread – what it is, why to do it and how to do it.
So 2022 is finally behind you, and you are now into 2023, but barely, as I believe, until Aries season, anyway, you still have some old lagging energies from the prior year. That is why you don't see how the year will likely pan out until around March, but that may not be the case for you as you may think the switch happens in January.
However, there will always be gifts, challenges, and obstacles to face every year. Some years have more sadness and challenges than others; those are years you would prefer to forget. The best thing you can do is move forward and set some intentions you would like to see happen in the new year. But, of course, there will be situations cropping up that will be out of your control. And there is nothing you can do about that.
However, you can always set intentions to manifest what you want. They are better than resolutions you will not stick with because you don't feel the solutions you would make in your heart.
Solutions for the new year have obligatory energy, whereas intentions are through your heart because you want to manifest specific things into your life in the year.
Also, note the lessons you learned from the previous year when you manifest something new for the year so you don't make the same mistakes that can ruin your manifestation. If you need some extra clarity for the new year, there is a new year tarot spread that you will want to try, which is from Labyrinthos. Let's check that out now!
The Eight Card New Year Tarot Spread
Here is a tarot spread that will help you gain some clarity on how you can make this year one that will work in your favor. First is an eight-card tarot spread where card one is placed on the left, going horizontally to card four on the right. Then you have card five, which is beneath card one. Next, card six is beneath card two, card seven is beneath card three, and card eight is beneath card four on the bottom. Now, let's look and see what each of the eight tarot cards represents in the new year tarot spread.
The first card of this new year tarot spread represents the primary lesson that you learned last year. Of course, that is never fun to reflect on, but you must do so to move forward with the year. However, the second card represented your most significant achievement last year. This card will tell you if you are still determining what that was, especially if you could have made more gains in the previous year. Then you will make the realization that you did indeed achieve something.
The third card represents what you needed to release last year: the habits, beliefs, and assumptions you left behind. That is good for you to know because that will help you also move forward in the year, so you don't bring back those habits that were not helping you.
The fourth card of the new year tarot spread shows what you can expect to happen this year, and it also gives you a heads up for what you need to prepare for because that way, you will not be surprised if there is anything that can be upsetting. For example, if you were to get the Tower for this position, sure, it may cause you to be fearful and dread the year, but you will need to open your mind. Remember that the Tower, as painful as it is, can open up good things to come once the old thing is ripped away.
The fifth card represents your biggest challenge in the year, showing your most significant obstacle. Again, it is better to know ahead of time to work around it. The sixth card represents the year's most prominent theme, which means it will be your primary focus. The advice for this year is indicated by card seven which will give you an insight into what you should take heed of for this year and how you can handle the challenges, which will help you navigate the difficulties indicated by the fifth card.
Finally, the eighth card will represent the type of transition that you will expect to have into the year. Will it be hard or smooth? That is the card that will give you the kind of insight that you need. You also do not need to do this spread on New Year's Eve, which has passed. You can spread this in January because the year has yet to start. Now, let's go over a sample new year tarot reading.

Sample New Year Tarot Reading
Let's go over a sample New Year tarot reading for a querent who is happy to see that 2022 is over as they dealt with a lot of betrayal and sadness over the previous year from so-called friends and family. However, if the querent didn't learn the lessons from 2022 correctly, they could deal with the same problems again this year.
To manifest new things this year, they must improve many aspects of their lives and master the previous year's lessons. The new year tarot spread will reveal what they learned and how they can enhance their year.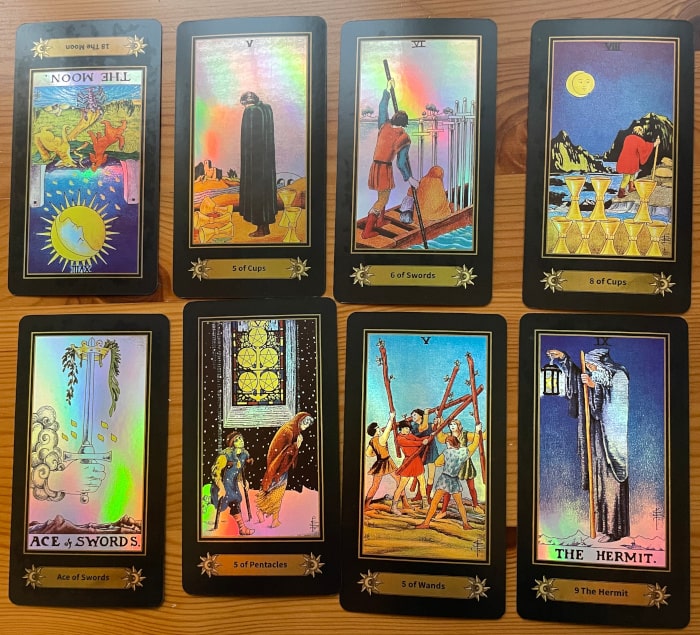 Card one represents last year's major lesson: The Moon reversed
Card two represents last year's most significant achievement: Five of Cups
Card three represents the querent needed to let go of last year: Six of Swords
Card four shows what to expect this year: Eight of Cups
Card five shows the year's most significant challenge: Ace of Swords
Card six shows the year's central theme: Five of Pentacles
Card seven is advice for this year: Five of Wands
Card eight shows how to transition from last year to this one: Hermit
That is a heavy new year spread as this year is full of lessons for the querent. But that does not mean they will struggle all year and cannot manifest the things they want. On the contrary, if they master what lessons this year is showing them, they will be doing well! The first card indicates last year's major lesson, and the Moon is reversed, which means they could do some shadow work as their fear and anxieties got the best of them.
However, since the Moon is in the reverse position, they uncovered much of what was causing them fear. Therefore, they were doing shadow work by going to therapy, but there were still many deep insecurities plaguing them.
Card two in this new year tarot spread represents the most significant achievement in the prior year, and the Five of Cups comes up. That is a card with a lot of negative connotations revolving around disappointment or grief. However, this card also reminds you that there is hope for the future, and perhaps the querent found a way to heal from past pain, which once again comes up in the Moon reversed.
Card three represents what the querent needs to let go of from the prior year, and the Six of Swords comes up, which is the card that represents letting go and moving forward, even with baggage. A physical move is in order to move past the pain from the past, and if the querent wants to manifest a move, then they can certainly do that.
The fourth card of our new year tarot spread shows what to expect this year, and the Eight of Cups shows up, which again means to move forward from what is no longer fulfilling. Walking away is what the card represents, and that is what the querent should do. However, that also means the querent looking to get a fresh start in life.
The fifth card shows the most significant challenge the querent will face this year, and the Ace of Swords comes up. Therefore, they could be dealing with challenges regarding clarity, as it shows they could be facing confusion. The best solution is for the querent to meditate on issues they face and to think clearly about everything before jumping into anything. Acting before thinking will hurt the querent in many ways, which is what they could do as they often lack clarity.
The sixth card in this new year tarot spread represents the year's central theme, and the Five of Pentacles comes up, which does not mean the querent will struggle with poverty. However, it is a clear sign that they must get their priorities straight and become rational about what is important to them, which also involves budgeting. If they spend too much money on frivolous items, they will end up in debt.
The seventh card represents the advice for the year, and the Five of Wands comes up, which is a sign that they need to pick and choose their battles. Some fights are not worth having, and finally, card eight shows how to transition from last year to this one, and the Hermit comes up. That means the querent needs to reflect on the lessons they learned from the previous year and use what they learned to make the most of this year.
To sum up this new year tarot spread, it is apparent that the querent had endured past trauma and betrayal and was not at their best. The best thing they can do is move forward; a physical move may be healing. They will have to keep their priorities straight, think before they act, pick their battles, and more soul-searching is in order. What does your new year's spread look like?